Whuti is a town situated in the southern part of the Volta Region, precisely in between Srogboe and Anloga district all in the Keta Municipality of the Volta Region of Ghana. The town has a good road network, schools, churches, good portable drinking water, hotels, and recreational grounds for children and adults people coterminous to Anloga.
The town is a dynamic one with multifaceted religious-based organizations such as the traditional, Christian, and Islamic religions, the town tolerates all kinds of religious beliefs and its cultural diversity.
The good people of Whuti are God-fearing people who are humble, honest, hospitable, humorous, and hardworking. They don't like to see people cheat them on anything, most believed in Africa oral traditional values and principles bequeathed to them by their forbears, therefore, they hold firmly to those beliefs.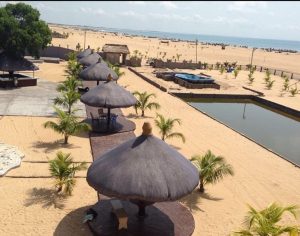 Aborigines
In the advent of Christianity, most people are changing their minds set on some of these socio-cultural practices and beliefs system that they were formally being proud of,  God is good to all who truly and spiritually worship and acknowledge Him as the maker and originator of this whole universe. Also, people of Whuti vehemently believed in the supreme being of the universe.
The town in many decades has produced great and famous men and women of higher moral integrity and intellectuals, who are imparting knowledge through vocation such as teaching, learning, and other menial jobs that are contributing significantly to the socio-economic growth and development of this country Ghana.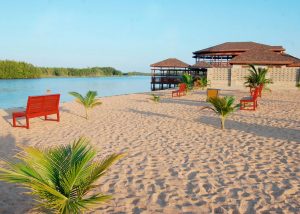 Eli Beach Resort
The town has a total of seven(7) sub-chiefs who owed allegiance to the overload of Anlo land Torgbui Sri III. These notable sub-chiefs of Whuti are; Torgbui Tamakloe, Torgbui Asige, Torgbui Kattah,Torgbui Gawu, Torgbui Sakplavi, Torgbui Dodzata, and Mama Worsah Nyornufia and they all have their distinguished and illustrious sons and daughters as descendants spreading across the length and breadth of this country and the world at large.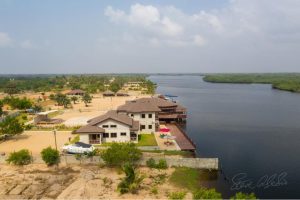 The Chill River Resort
One interesting thing about these chiefs which many people do not know is that they have their clan system and object depicting their symbol of authority and some of these clans in Ewe are;Adzorviawo, Baatawo, Lawawo,Tsamawo, Likeiwo, Ebluewo, Agaveawo among others. On occasion like a festival, some of these symbols are carried in accompany of chiefs to the durbar ground with asafoo cultural troupe leading them.
Whuti has a very viable agricultural landscape and the major occupation in this town is predominantly artisanal fishing and peasant farming system like shallot, pepper, okra, and tomatoes farming and other livelihood empowerment like Susu collections, hairdressing, dressmaking, and many others. The Whuti township has a beautiful and quiet ambiance with many historic tourism sites like Taleto, Tokortsi,  and many others that are not known.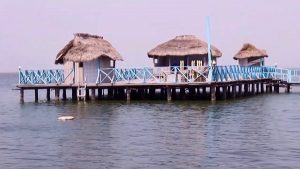 Keta Lagoon Resort
Whuti has a total human population of over four thousand approximately in both home and abroad, because of rural and urban migration drift and other family issues most of her citizens went to other places seeking for greener pastures. Others who have the perchance for attaining their goal and ambition are still pursuing their carrier in education and other businesses in places outside the township.
The people of Whuti celebrate the famous Anlo HOGBETSOTSO festival to remember their forefathers who fought hard and were scorned from the nefarious and cruel leadership of king Agorkorli of blessed memory.
Whuti have nurtured and raised numerous prominent personalities who are in many public and private institutions playing very key roles in the transformational agenda of this country and some of these personalities are Dr.Nyaho Nyaho Tamakloe, Diplomat Victor Gbeho, Professor Samuel Nyamuame,  Dr. Julius Kwaku Kattah,  Brigadier Almphose Kattah of blessed memory, Dr.Nutakor and many others.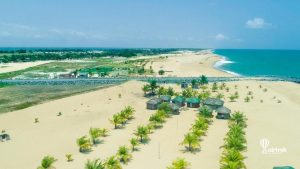 Emancipation Beach Keta
Travel and tour the serene environment of Whuti and you will be marvelously received with kind courtesy and gesture that will blow your mind. Is most important to know where you're coming from, a child who does not know his place of origin is a lost child. Frequently visit home and fraternize and reunite with your family members.
The sufficient spoken words of God have brought Civilizations that shine lights to all dark and there's nowhere in Whuti those culturally outmoded attitudes of witchcraft and spiritualism taken place.
Writer: Ernest Everlove Quarshie.