NTC Opens Registration for 2021 GTLE Candidates
National Teachers Council has announced the registration of the 2021 Ghana Teacher Licensure Examination. All qualified candidates who have checked and confirmed their registration status are to proceed to the nearest GCB Bank or Prudential Bank nationwide and make this amount of payment to purchase an E-voucher which includes a Serial number and Pin for your online registration. Before visiting the Bank remember to go along with this and this to avoid disappointment. After purchasing your E-voucher you can now check all you need to know before registration.
What are some of the NTC Courses I will be writing?
Also, note that the Examination will consist of three papers, first, Essential Skills, which is more related to principles and practices of the teaching profession and code of ethics. Second, Numeracy Skills, this course has to do with mathematics-related courses (Algebra, ratios and percentages, probability and graph plotting). Third, literacy Skills consist of English Grammar, Composition, and Comprehension). Here are some compiled PAST QUESTIONS and Likely Examination questions uploaded for you by flatprofile.com.
How to register for NTC licensure Exams
As discuss earlier, you first have to purchase an E-Voucher from GCB Bank or Prudential Bank and don't forget to go along with this and this. Also, ask the taller to print a copy of your Serial number and Pin. Besides, if you are a new candidate you are requested to pay this amount of money for three papers, likewise, those who are re-siting are to pay this amount. You can also check this for more information.
NTC Registration procedures
Log into

NTC Portal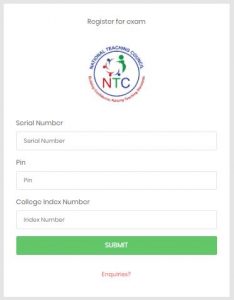 Click on

GTLE Examination Registration

Enter your Serial Number and Pin giving to you at the Bank
Choose your Examination Center
NB: this is where you will be writing the examination and can't be changed after submission. Read more.
Fill in your detail. This includes; Name, Address, Contact, School attended, and Program of study, Class Obtained, and Qualification.
Upload your Picture. Read more on this.
Click submit
Print out a copy. Remember to print a copy and take it along during the day of the examination.
NB: Please check your

Confirmation Status

before you purchase a voucher for GTLE registration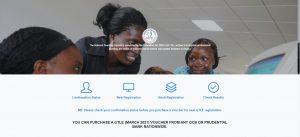 Deadline 14th April 2021.
Note: Management wishes to announce to all candidates that "there will be no extension in time for registration beyond the deadline."
Date of Examination
6th – 7th May 2021