Are you a final year student in both public or private accredited tertiary institutions in Ghana and wondering how to buy (via MOMO using shortcode) or activate your National Service Scheme – NSS PINcode online? Look no further, here's a comprehensive guideline to help you navigate via the NSS Dashboard Portal.
Ghana National Service Scheme (G-NSS)
Following the release of the NSS Pincodes by the Ghana National Service Scheme (GNSS) all prospective applicants are requested to access their PIN Codes with their respective Student Number (ID) and Date of Birth (DOB) as their login credentials to explore the NSS Portal.
How to Activate your NSS Pincode via MTN MOMO (USSD)
Follow the steps below to buy your NSS pincode and activate your account by dialing a simple shortcode:
Dial *170#
Choose option 2 for "Pay Bill?
Choose option 6 for "General Payment!"
Enter payment code as – NSS PINCODE (type NSS, put a space, then type your PINCODE). The menu would return your name for confirmation.
Enter your deposit amount (Gh¢ 41.00)
Enter NSS reference
Enter Momo PIN to confirm payment.
You will receive a message (NSS Number) to confirm the transaction.
Infographic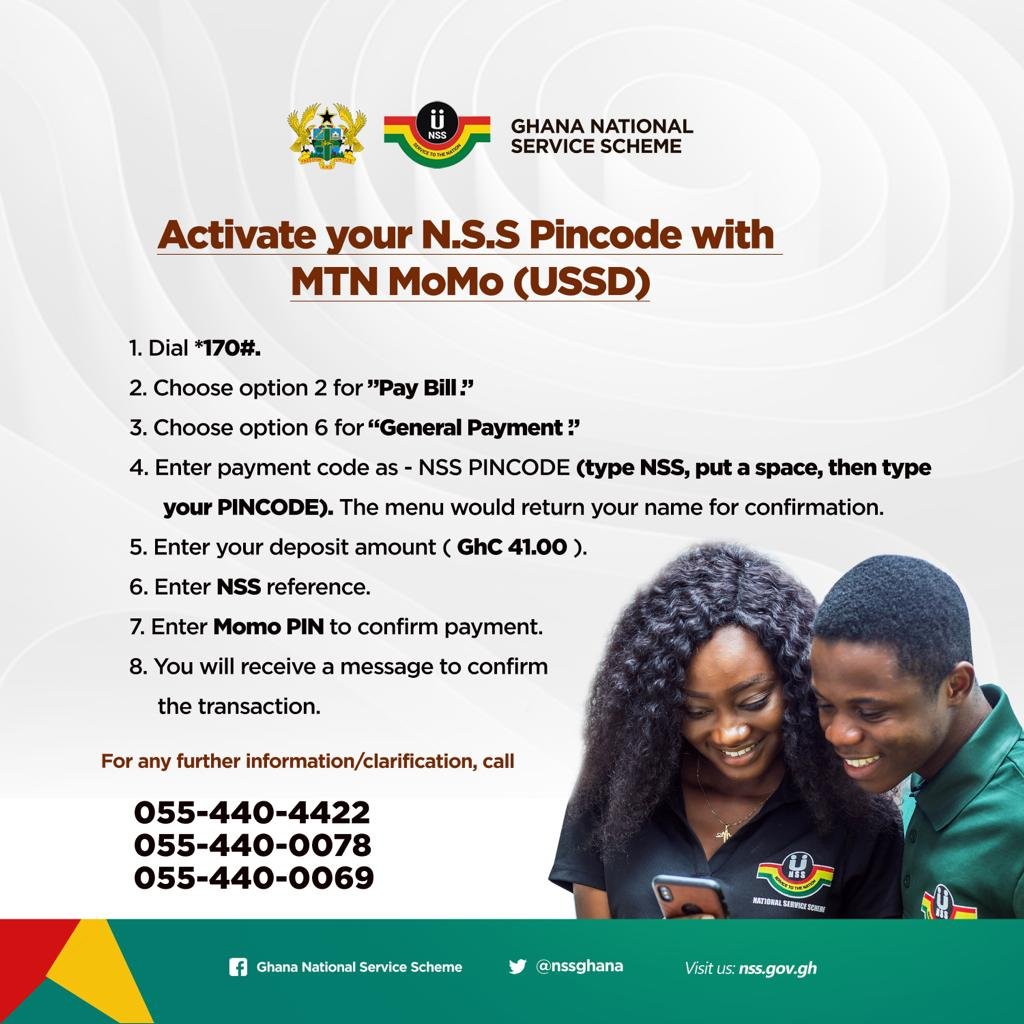 How to Activate NSS PINcode via Online Portal
To activate your PINcode online to receive your NSS Number. Let's get started:
Login www.nss.gov.gh
Tap on Check Pincode
Enter your Index Number/Student ID Number and Date of Birth (DOB) to get pincode.
Make payment at any ADB bank/pay via MoMo
Personnel shall receive confirmation of payment message
Congratulations!!! Follow these steps to check NSS Posting regularly using your NSS Number and here for online registration and endorsement by the user agency. Besides, applicants have to book an appointment with NSS to avoid delay and rejection at the point of registration and picture taken.
The National Service is a one (1) year mandatory programme for all eligible Ghanaian final year students from all accredited tertiary institutions in the country. After posting, registration, and endorsement by the user agency (place of posting), you will now be called National Service Personnel (NSP).
Meanwhile, as a National Service Personnel (NSP), you will be requested to download NSS Monthly Evaluation form every month. Signed by your immediate supervisor, proceed to the nearby NSS district office in your region of posting for approval.
Well done!!! your NSS Allawa will now be processed for payment. See how to check NSS allawa.
NSS Official Contact Details
For any further information/clarification, call
055-440-4422
055-440-0078
055-440-0069