Browse and Login NSS Dashboard Portal to access your allowance, download monthly evaluation form (PDF), registration, pincode, check posting, and all you need to know about National Service Scheme in Ghana.

About National Service Scheme (NSS)
In Ghana, the National Service Scheme (NSS) was established in 1973. The Ghana National Service Scheme was established under Act 426 (of 1980) of the Constitution of Ghana. The scheme states their objectives and makes Rules and Regulations under Act 426, which applies that, all citizen of Ghana above the age of 18 years and qualified as graduates will undergo a one-year mandatory service to the nation.
Also, the scheme intends to engage graduate students to real working experience, mostly in their field of study which includes: Education, Health, Co-operative, Agriculture, Local Government, Military, and Rural Development among others. Hence, providing great exposure and a practical working opportunity to all service personnel both in private and public sectors, also as part of their service to the nation.
How to access your NSS login pincode

At the end of every academic year, the National Service Scheme secretariat releases PIN Codes for all eligible national service personnel (University graduate, Colleges of Education and Nursing). Besides, to have access to your PIN Codes you need to login here with your Student ID (Index Numbers), Date of Birth and proceed to any branch of Agriculture Development Bank Ltd. (ADB) and make a payment of GH¢ 40.00 or via Mobile Money which requires an amount of GH¢ 41.00.
How to check your NSS login number
Visit the NSS portal
Click on

Check & Pay for PIN CODE

Enter your

Index Number

/

School ID Number

Enter Your

Date of Birth

Click Search
NB: the Summary of your detail will show up. Make Payment and proceed.
How to pay for my NSS login pincode through MTN mobile money
Dial *170#
Select

MoMoPay & Pay Bill

Select

option 2

General Payment
Enter Payment Code
Enter amount (GH¢ 41.00) and confirm
Proceed to the NSS portal and complete registration
NSS Released Pincode for 2021/2022 National Service Personnel Enrollment
How to NSS login portal Registration

REQUIREMENTS:
At least one valid National ID – Passport, Voters Card, SSNIT Card or Driver's License
Scanned passport photograph – not more than 1mb. Would appear on the final certificate, so
needs to be formal.
NB: This process is for personnel to complete online registration to be issued an NSS number. Please note
that all field with an ASTERIKS (*) sign on them are compulsory to fill, and you cannot progress until
the requested information is supplied.
STEP 1: Visit the NSS Portal and enter your username (School index number or ID number), and your Password (payment pincode).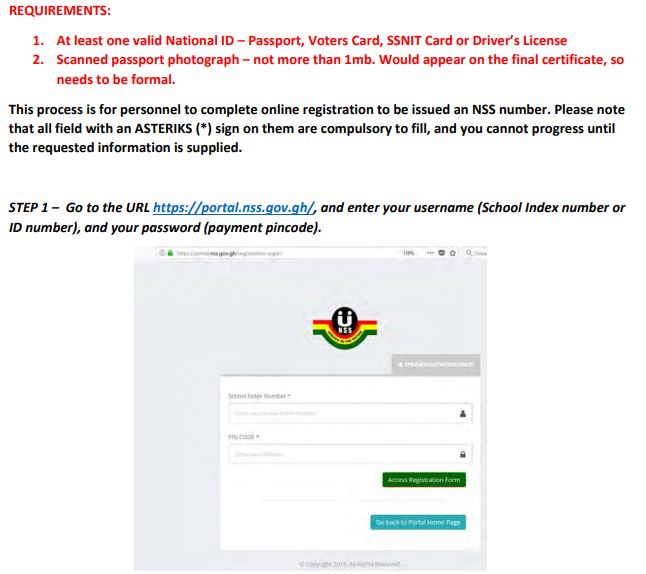 STEP 2: You should now be on the first page of the form (Applicant Info). Please confirm all the
information displayed is yours and correct. If not, please contact Live Chat for support. Select the
means of Identification you intend to submit, and enter the ID number.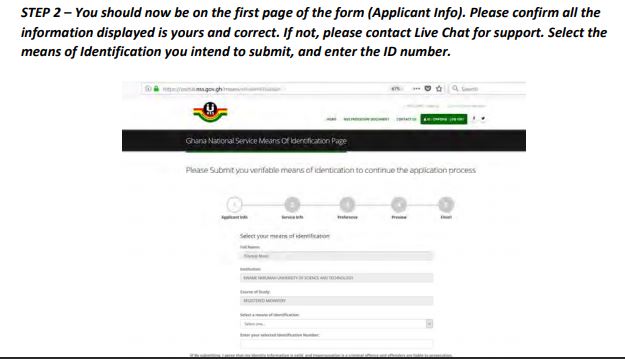 For any of the IDs you have selected, below is the details the system requires you to enter for ID
confirmation.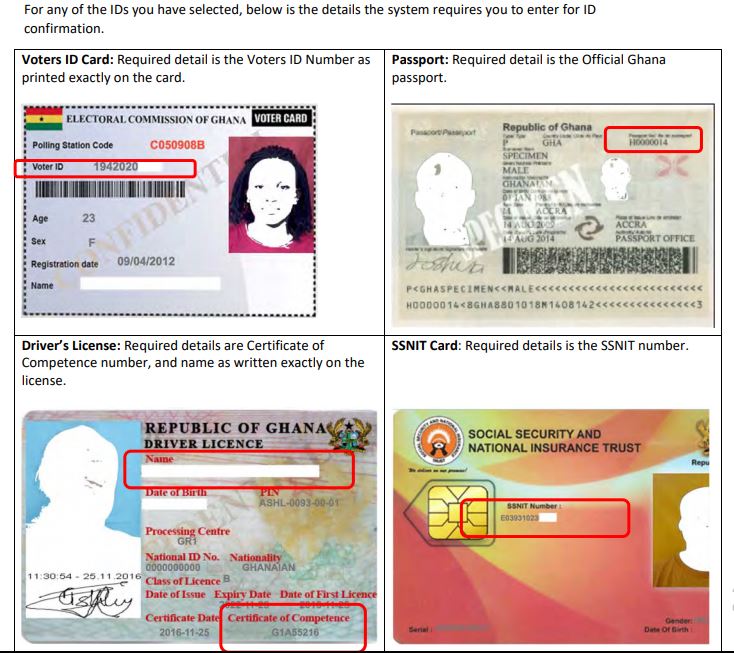 STEP 3: The system would compare the information on your ID, and that submitted by your
Institution, and would provide you an Identity Match Score.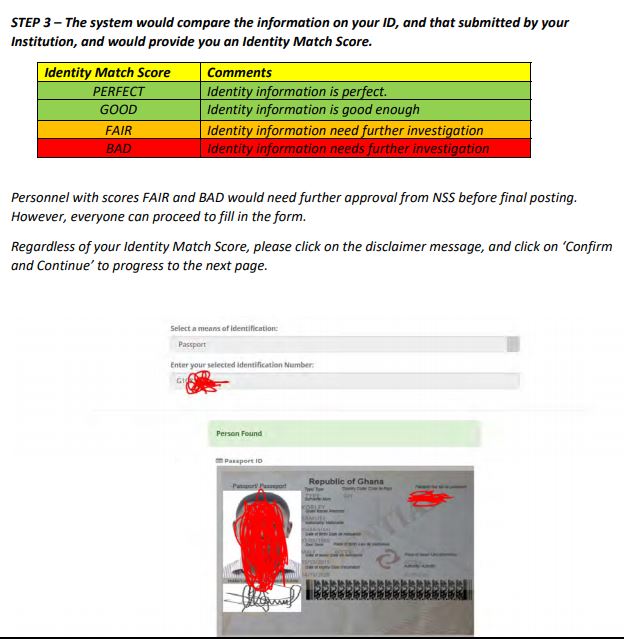 STEP 4 : You would now be required to complete the rest of the applicant information. Upload your
passport photograph and ensure it is within the size specification of not more than 1mb. Address, and
contact information are all compulsory fields. Please ensure the information here is current and active,
as this is the only way the NSS can reach you. Enter your Next of KIN information for use as emergency
contact.
Click on SAVE & CONTINUE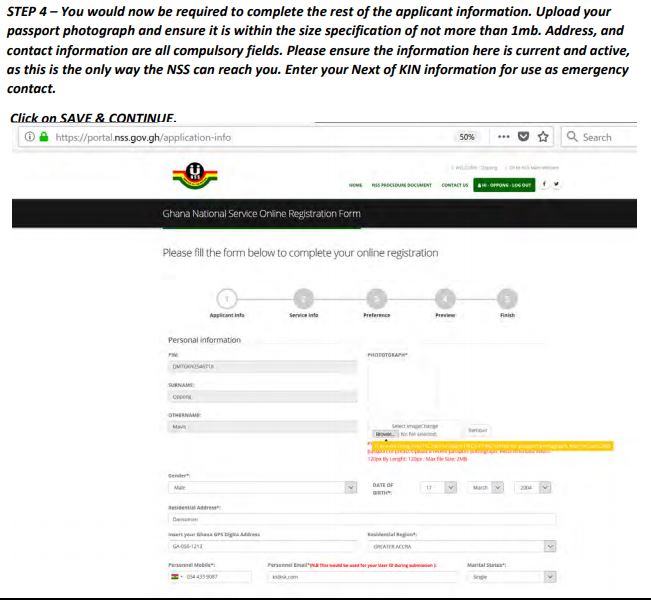 STEP 5 : You should now be on the SERVICE INFO page. Enter your employment history and
click on SAVE & CONTINUE.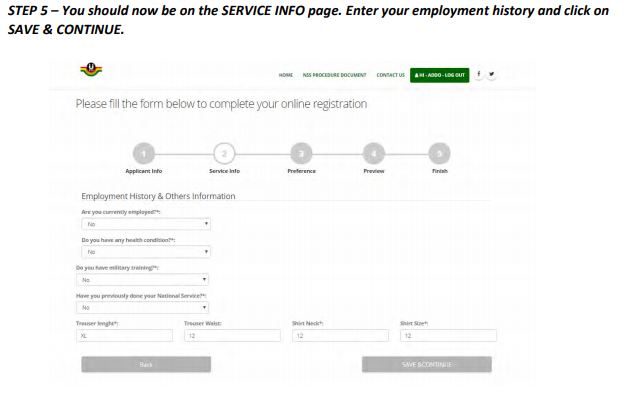 STEP 6 : You should now be on the PREFERENCE page. Information supplied here would guide the NSS
on your final posting, so ensure to provide accurate information. Select your 3 preferred regions to be
posted, in your order of preference (Region I being the number 1 choice). Select the local languages
you can read, speak, and write.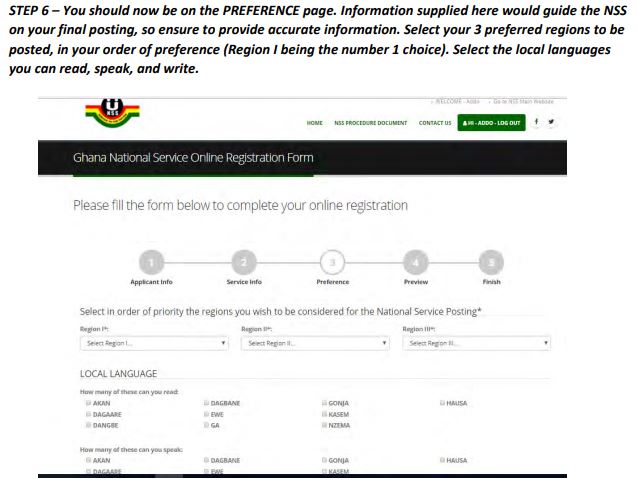 STEP 7: You should now be on the PREVIEW page. This is a summary of all the information already
provided. Read through and ensure all of it is correct. Use the BACK button if you intend to change any
details. Click on SUBMIT.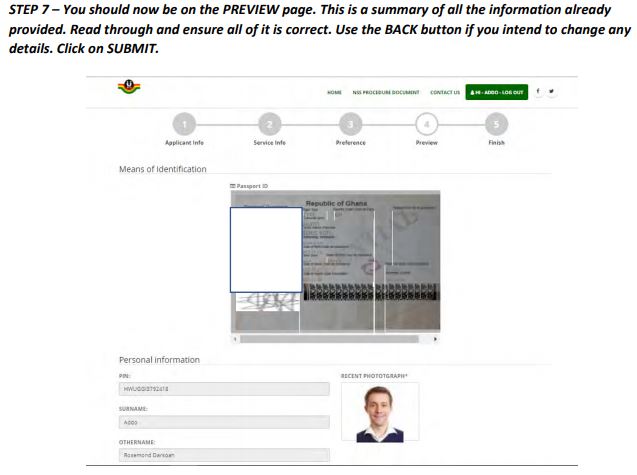 STEP 8: Congratulations! You have now completed your online registration. You should see a
congratulatory page, and your NSS number assignment.
You also now have an NSS dashboard to yourself, where you can review any registration information,
or request for services for the NSS.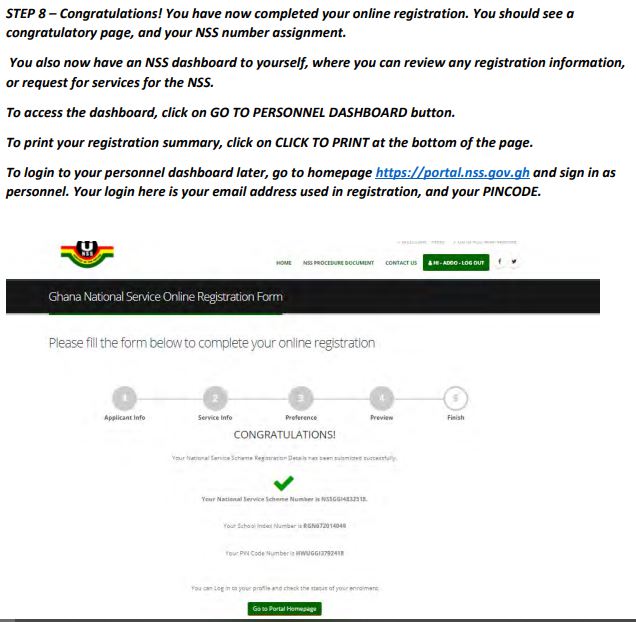 To access the NSS dashboard, click on GO TO PERSONNEL DASHBOARD button.
To print your registration summary, click on

CLICK TO PRINT

at the bottom of the page.
SAMPLE VIEW OF PERSONNEL DASHBOARD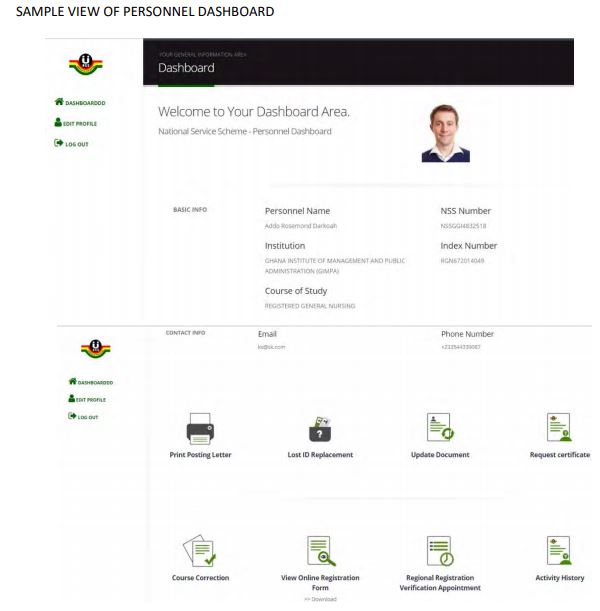 How to book appointment for NSS registration

Log onto the

NSS portal

Check posting and print a copy of the appointment letter
Proceed to user agency for the endorsement of appointment letter by Head of the organization or Human Resource Director with an official stamp
After endorsement by user agency, visit the NSS website to schedule an appointment indicating the date and time for regional validation and acceptance
NSP accepted by user agency and has booked appointment should proceed to NSS Regional Zonal Registration Centre for validation and registration to obtain Regional Acceptance Number (RAN)
NB: Rejected/Released National Service Personnel should go back to NSS Regional Secretariat to begin the process.
After validation, print a new appointment letter which has the "RAN" and makes three photocopies.
Submit a copy to the NSS District Office, give a copy to the user agency and keep one.
NB: Only personnel who book appointment would be attended to at the Regional Zone Registration Centres
How to access your NSS dashboard login Portal

Visit

NSS login portal

Click on

Sign in

Sign in as personnel
Enter your email used during registration and

PINCODE

as a password
Change password
How to print and fill NSS monthly report form
National Service Scheme (NSS) evaluation form is a document the secretariat uses to track your attitude and punctuality at work. Therefore, this duty report form has to be printed every month on your NSS Portal, endorsed by your supervisor as proof of your attitude, behavior, and punctuality at work.
Hence, your supervisor has the power to reject or give remarks in regards to your comportment and whether you qualify to be paid. Therefore, after the supervisor's endorsement submit your form to your district secretariat for approval. In addition, visit your dashboard from time, and find out if your details have been approved. Also, repeat the procedure every month.
The form has:
Telephone Number
NSS Number
E-mail
Supervisor's Name
Supervisor's Contact
Organization's Name (etc.)
How to check your NSS allowance
Login NSS dashboard portal
Click on check allowance
Enter your

NSS number

follow the rest of the procedures
How to print NSS monthly evaluation report form online
Login NSS dashboard portal

Sign in

as a personnel
Enter your e-mail address used during the registration
Enter your password (

NB:

Your default password is your NSS code).
Click on the month available on your Dashboard
Download and print

Submit

to your supervisor for remarks and endorsement.
Make a photocopy for yourself and submit the original to your NSS District office. Repeat the procedure every month.
How to request for NSS certificate and requirements
To requests for NSS certificate on delivery, the Service Personnel must have:
Completed a One-year or 12 months National Service.
Filled an annual assessment form by their immediate supervisor or Head of his/her user Agency.
Submitted his/her assessment form to the District Office. (NB: at the place of service)
Provide your NSS Number and verified
Submit your Means of Identification
Fill in your details in the request form displayed
Make payment for delivery using any of the several options available
How to reset NSS login forget password
visit the NSS Certificate Portal
Enter your details
Click on search