As a fellow-up concerning the approval of certain books purported to be approved by NaCCA, and the earlier Press Release by Hon Samuel Okudzeto Ablakwa requesting the Minister of Education to appear before Parliament. A statement signed by the Acting Director-General, NaCCA has reiterated the following textbooks currently making waves in the media have not been approved for use in schools.
"History of Ghana for Basic 6" by Golden Publications carries distasteful information about Dr. Kwame Nkrumah and the CPP.
"History of Ghana Textbook 3" by Badu Nkansah Publications features "A song that shows the Ewes identity.
"Golden English Basic 4" by Golden Publications, which features "Efo agrees to prepare juju for players" on page 17.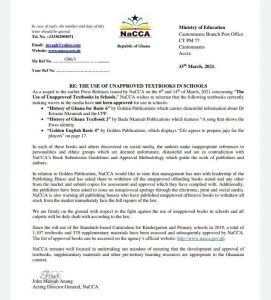 The management attests to the fact that " in each of these books and others discovered on social media, the authors make inappropriate references to personalities and ethnic groups which are deemed unfortunate, distasteful and are in contradiction with NaCCA's Book Submission  Guidelines and Approval Methodology which guide the work of publishers and authors."
Also, NaCCA has asked the publishers of the books to issue an unequivocal apology through electronic, print, and social media, and further warn all publication houses who have published unproved offensive books to withdraw all stock from the market immediately or face the full rigors of the law.
The management also wishes to assure all shareholders that, their agency is firmly on the ground to fight against the use of unapproved books in schools and all culprits and dealt with them by the law.
Besides, since the roll-out of the Standards-based Curriculum for Kindergarten and Primary schools in 2019, a total of 1,107 textbooks and 370 supplementary materials have been assessed and approved by NaCCA. The list of approved books can be accessed on the agency's official website