Access the UG MIS Web and login with your Student Number and PIN here as a students of the University of Ghana – Legon. Besides, apply for UG admission, register for courses, change personal information, get academic and other information and make payments. Also, Login UG Sakai Portal to submit your assignment.
University of Ghana – UG Legon MIS Web Portal
The UG MIS Web is a Self Help iEnabler Portal where both students and alumni login with their credentials, Reset forget Pin, Change Pin, Request Pin, and retrieved Forgotten Student Number.
UG MIS Web Login
Visit UG website: ug.edu.gh
Navigate to the top right corner and tap on Student
Select MIS Web
Login here MIS Web Portal – Self Help iEnabler
Click on the appropriate radio button to choose your status (Personnel or Student)
Provide your personnel or Student number and PIN
Tap on the login button
Tap on Forgotten Pin button and your PIN will be sent to your UG assigned email address. (My first time login)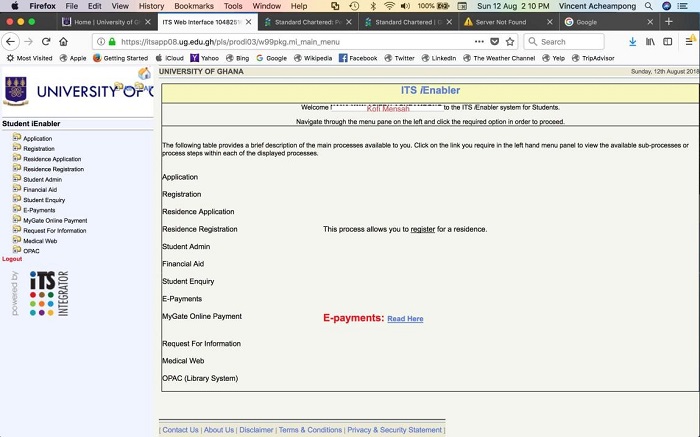 How to Change MIS Web Page Password
For your first-time login attempt you will be directed to another screen, here temporary password will be sent to your official UG assigned email address.
Enter the temporary password to complete the next steps
Retrieve your temporary password from your email.
Enter it in the Temporary Password field.
Create and input your new password which should be a combination of upper case letters, lower case letters, special characters, and numbers. The chosen password must be at least eight (8) characters long and should be different from any previous passwords you have used for the MIS Web
Click on the

login in button

to log into your MIS Web home screen
This completes your first-time login for the new MIS Web
Recommendations
University of Ghana UG Legon Admission Portal