Here is how to register and link your Mobile SIM Card with the National Identification Authority (NIA) Ghana Card. Check the minimum age for SIM registration and total number of SIM Cards individual can register in Ghana. Also, Register for NIA Ghana Card Online.
How to Register your SIM Card
Kindly follow these simple steps below to link your SIM Card with the Ghana Card via the shortcode (USSD) *404#.
8 Simple Steps to register your SIM Card with Ghana Card
Dial *404#
Enter

Ghana Card PIN

(Enter letters and figures without the hyphens)
Confirm Ghana card PIN
Enter

Surname

and

First Name(s)

Enter Date of Birth (

DDMMYY

)
Select

Sex

Confirm details
Submit details provided after confirmation
Note:
The shortcode for SIM Card registration is *404#
If successful you get a confirmation message with a unique code
Due to wrong details, you have

3 attempts

to answer security questions
If Unsuccessful due to verification failure at the National Identification Authority (NIA), you will be informed to contact the NIA.
Stage Two
Visit your Service provider (Agent Customer Care) to complete this stage of the registration.
Bio-Capture via SIM Registration App
Submit Code

and

SIM Number

for verification by Service Provider
If successful,

continue to step 2

If Unsuccessful, process terminates
Presents your Ghana Card to registration agent
The registration agent captures the following details of the customer:
Ghana Card Details
Photograph
Fingerprint
The agent submits the biometric capture
The subscriber receives a confirmation message
At the end of this stage you will receive this message.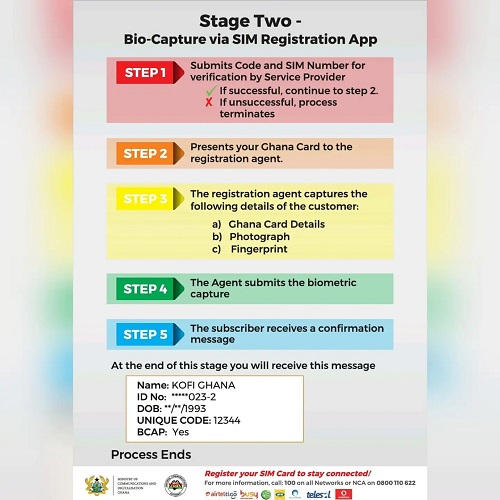 Kindly follow this process to complete your registration of SIM with the Ghana Card and check out how to use GH Self SIM Card REG App for stage 2 registration.
Recommended
Register to merge your SSNIT and NIA numbers
7 Steps to link your NHIS and NIA Ghana Card
How to Link GRA TIN Number and Ghana Card
How to Check Your MTN, Vodafone, Airteltigo And Glo SIM Number in Ghana