Ghana Education Service (GES) has postponed the SHS 1 students' re-opening date from March 10, 2021, to Thursday, March 18, 2021 – Sunday, March 21, 2021. According to GES, this will enable management to prepare enough and also allow students who are yet to complete self placement do so before academic works begins on Monday, March 22, 2021.
"Management also acknowledges parents, students, and the general public for their kind support and cooperation. Meanwhile, management has also granted a Mid Semester Break effect from Monday, March 8, 2021, to Thursday, March 11, 2021″.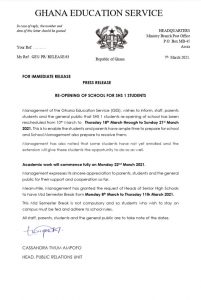 In a press release singed by the Head of Public Relations Unit, the service said the Mid Semester Break is not compulsory; Therefore, students will be allowed to stay, be fed, and adhere to all school rules.