The Ghana Education Service (GES) has rescheduled the reopening date for SHS 3 students to Wednesday, May 5, 2021.
In a Facebook post, management of the service says this is a follow-up to a proposal from the Conference of Heads of Assisted Secondary School (CHASS).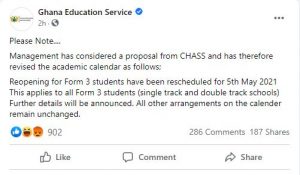 Therefore, the Management of GES has revised the academic calendar as per the suggestions made.
1. The reopening for All Form 3 has been rescheduled to 5th May 2021.
2. The new date applies to all schools (single and double track)
3. The new date does not affect the proposed instructional hours of 1,080 before the WASSCE.
New Standards-Based Curriculum-NaCCA
According to the Deputy Director-General, Mr. Anthony Boateng this is to give students ample time to complete their registration process and also help parents prepared their children for school. He also, advice both parents and students to report along with adequate nose masks and strictly adhered to COVID-19 protocols.
GES needs a review of a new dress-code and a hairstyle policy in Ghana