Ghana Education Service wishes to update School candidates, parents and the general public that, the 2021 BECE registration will commence from March 15 to May 14, 2021.
As parts of measure to curb the spread of COVID-19, the West African Examinations Council (WAEC) could not organize its press briefing of Metropolitan/Municipal/District Directors, Examination Officers and IT Personnel.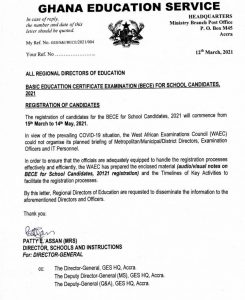 Besides, the WAEC has prepared the enclosed material (audio/visual notes on BECE for School Candidates, 2021 registration) to all registration official and equipped them with are the necessary information they will need to ensure effectively and efficiently registration. Also they have been giving the Timelines of Key Activities to facilitate the registration processes.
In a statement sign by the Director, Schools and Instructions, the service requests that the information reaches all stakeholders.